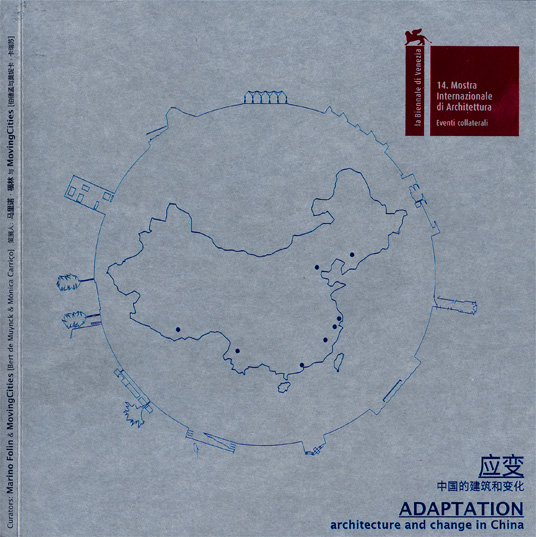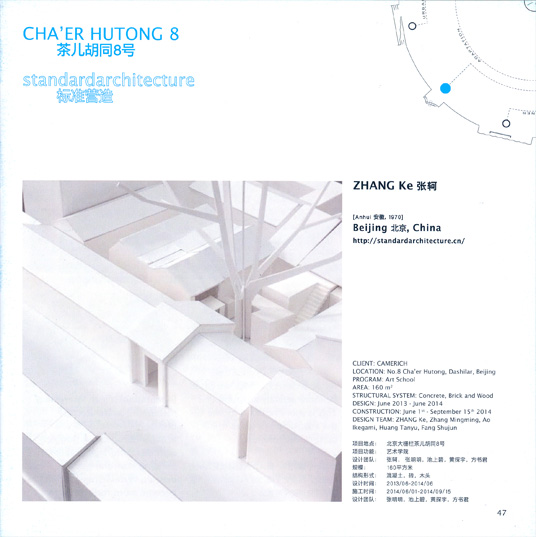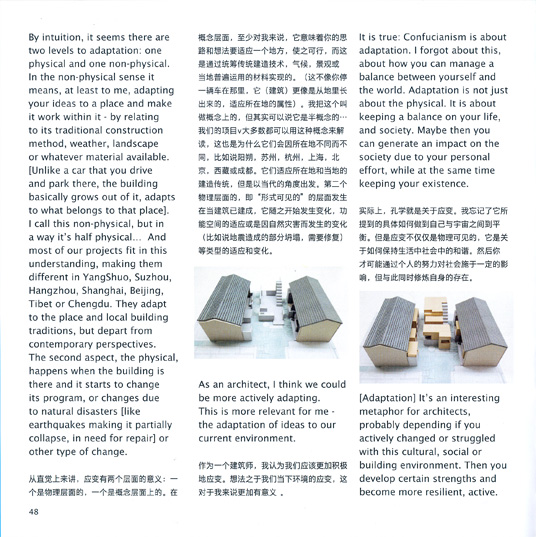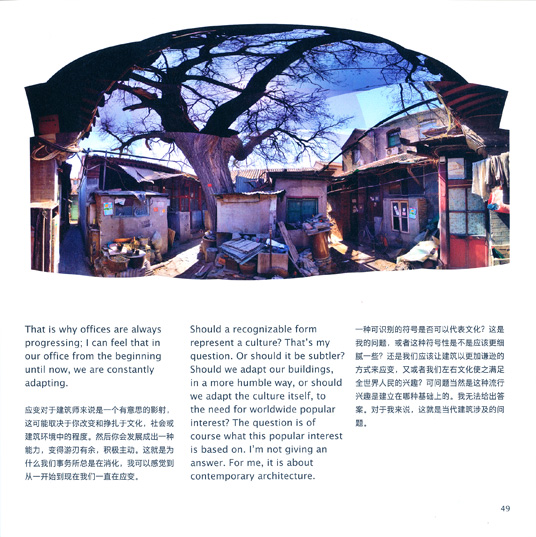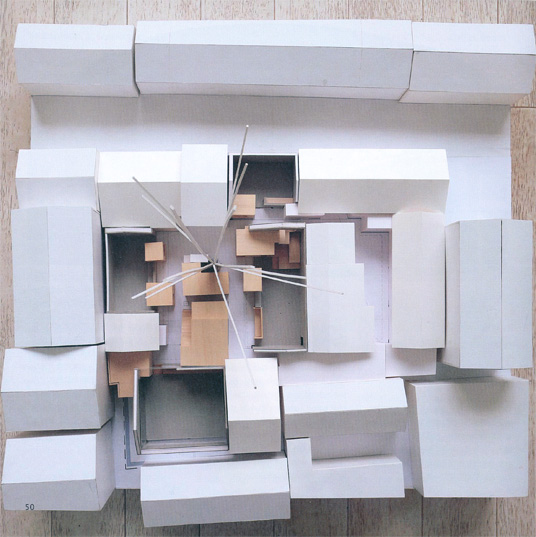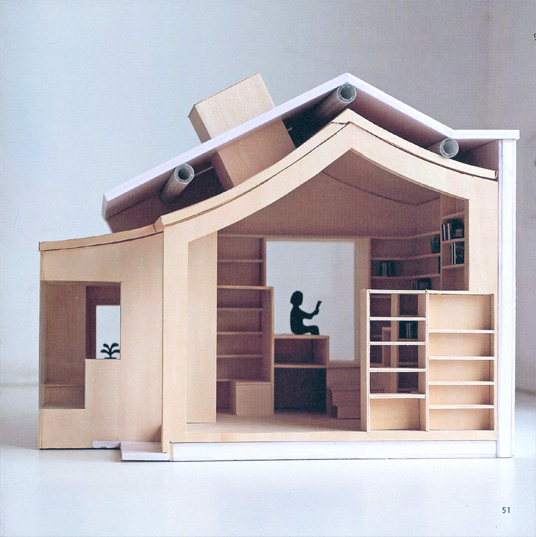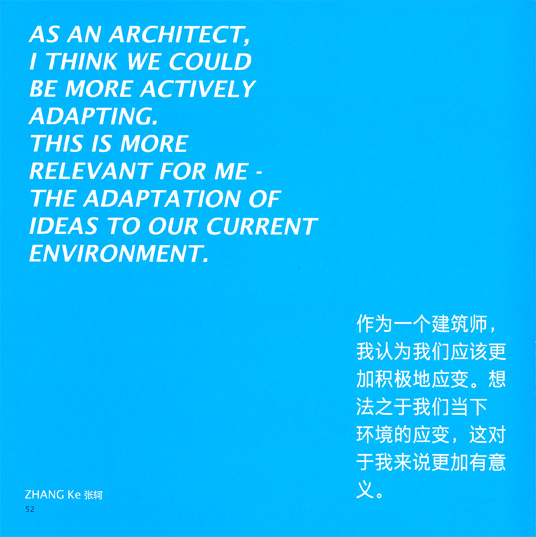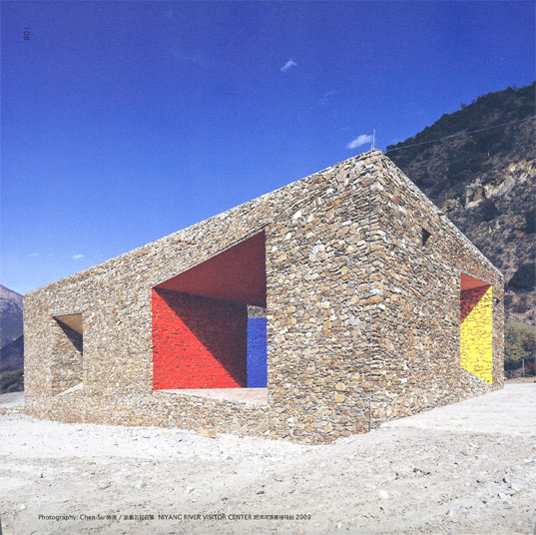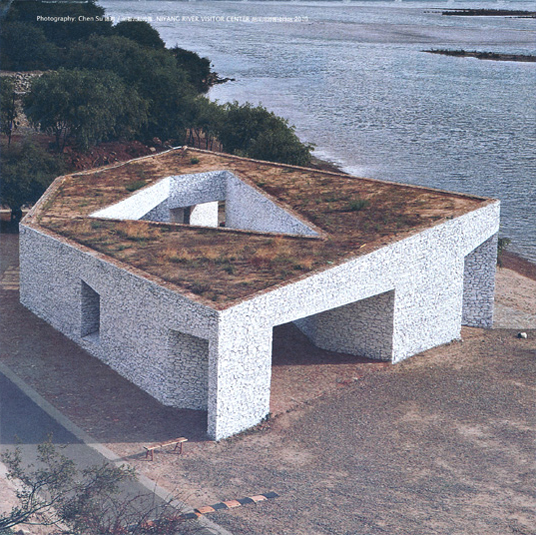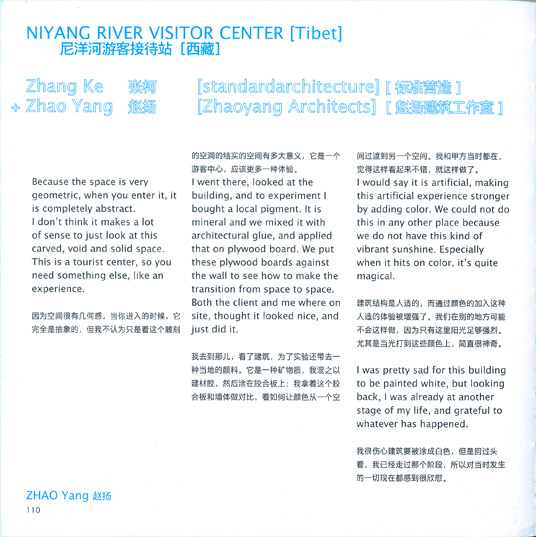 ADAPTATION architecture and change in China
Cha'er Hutong 8
茶儿胡同8号
standardarchitecture 标准营造
Client: CAMERICH
Location: No.8 Cha'er Hutong, Dashilar, Beijing
Program: Art School
Area: 160 ㎡
Structural System: Concrete, Brick and Wood
Design: June 2013-June 2014
Construction: June 1st - September 15th 2014
Design Team: Zhang Ke, Zhang Minqming, Ao Ikegami, Huang Tanyu, Fang Shujun
项目地点:北京大栅栏茶儿胡同8号
项目功能:艺术学院
设计团队:张轲,张明明,池上碧,黄探宇,方书君
规模:160平方米
结构形式:混凝土,砖,木头
设计时间:2013/06-2014/06
施工时间:2014/06/01-2014/09/15
设计团队:张明明,池上碧,黄探宇,方书君
By intuition, it seems there are two levels to adaptation: one physical and one non-physical. In the non-physical sense it means, at least to me, adapting your ideas to a place and make it work within it-by relating to its traditional construction method, weather, landscape or whatever material available. [Unlike a car that you drive and park there, the building basically grows out of it, adapts to what belongs to that place]. I call this non-physical, but in a way it's half physical... And most of our projects fit in this understanding, making them different in YangShuo,Suzhou,Hangzhou, Shanghai, Beijing, Tibet or Chengdu. They adapt to the place and local building traditions, but depart from contemporary perspectives. The second aspect, the physical, happens when the building is there and it starts to change its program, or changes due to natural disasters[like earthquakes making it partially collapse, in need for repair]or other type of change.
从直觉上来讲,应变有两个层面的意义:—个是物理层面的,一个是概念层面上的。在概念层面,至少对我来说,它意味着你的思路和想法要适应一个地方,使之可行,而这是通过统筹传统建造技术,气候,景观或当地普遍运用的材料实现的。 (这不像你停一辆车在那里,它(建筑)更像是从地里长出来的,适应所在地的属性)。我把这个叫做概念上的,但其实可以说它是半概念的…我们的项目v大多数都可以用这种概念来解读,这也是为什么它们会因所在地不同而不同,比如说阳朔,苏州,杭州,上海,北京,西藏或成都。它们适应所在地和当地的建造传统,但是以当代的角度出发。第二个物理层面的,即"形式可见的"的层面发生在当建筑已建成,它随之开始发生变化,功能空间的适应或是因自然灾害而发生的变化(比如说地震造成的部分坍塌,需要修复)等类型的适应和变化。
As an architect,I think we could be more actively adapting. This is more relevant for me-the adaptation of ideas to our current environment.
作为一个建筑师,我认为我们应该更加积极地应变。想法之于我们当下环境的应变,这对于我来说更加有意义。
It is true: Confucianism is about adaptation. I forgot about this, about how you can manage a balance between yourself and the world. Adaptation is not just about the physical. It is about keeping a balance on your life, and society. Maybe then you can generate an impact on the society due to your personal effort, while at the same time keeping your existence.
实际上,孔学就是关于应变。我忘记了它所提到的具体如何做到自己与宇宙之间到平衡。但是应变不仅仅是物理可见的,它是关于如何保持生活中社会中的和谐。然后你才可能通过个人的努力对社会施于一定的影响,但与此同时修炼自身的存在。
[Adaptation] It's an interesting metaphor for architects, probably depending if you actively changed or struggled with this cultural, social or building environment. Then you develop certain strengths and become more resilient, active. That is why offices are always progressing; I can feel that in our office from the beginning until now, we are constantly adapting.
应变对于建筑师来说是一个有意思的影射,这可能取决于你改变和挣扎于文化,社会或建筑环境中的程度。然后你会发展成出一种能力,变得游刃有余,积极主动。这就是为什么我们事务所总是在消化,我可以感觉到从一开始到现在我们一直在应变。  
Should a recognizable form represent a culture? That's my question. Or should it be subtler? Should we adapt our buildings, in a more humble way, or should we adapt the culture itself, to the need for worldwide popular interest? The question is of course what this popular interest is based on. I'm not giving an answer. For me, it is about contemporary architecture.
一种可识别的符号是否可以代表文化?这是我的问题,或者这种符号性是不是应该更细腻一些?还是我们应该让建筑以更加谦逊的方式来应变,又或者我们左右文化使之满足全世界人民的兴趣?可问题当然是这种流行兴趣是建立在哪种基础上的。我无法给出答案。对于我来说,这就是当代建筑涉及的问题。  
As an architect, I think we could be more actively adapting. this is more relevant for me-the adaptation of ideas to our current environment.
作为一个建筑师,我认为我们应该更加积极地应变。想法之于我们当下环境的应变,这对于我来说更加有意义。
Niyang River visitor center Tibet
尼洋河游客接待站 西藏
standardarchitecture 标准营造
Zhang Ke
张轲
Zhaoyang Architects
赵扬建筑工作室
Zhao yang
赵扬
Complementing the splendid location on Tibet's Niyang River architecture offices standardarchitecture and Zhaoyang Architects collaborated in 2009 on creating a 430㎡ visitor centre. The construction of this building adopted and developed the techniques of the Tibetan vernacular architecture, while using local resources. Throughout the years,this building underwent a particular change of color. For the first time, both architects explain the motives behind this particular form of architectural adaptation.
标准营造建筑事务所与赵扬工作室于2009年合作设计的占地430平方米的西藏尼洋河游客中心与建筑所在场地交相呼应。建筑的建造引用和发展了西藏乡土建筑技巧,同时采用当地材料。经过岁月的洗礼,这个小建筑见证了一次颜色的特殊变化。两位建筑师首次共同介绍这一建筑应变背后的原因。  
Inside the courtyard it is really beautiful, This is because of the unmistakable use of Tibetan color on the material, which at the same time is contemporary. It looks like an artist did it-an installation of sorts, it is so eye-catching. The only difficulty is the transition between outside and inside.
院子里面真的很美。这是因为材料上西藏风格颜色恰到好处地运用,它同时表达出一种当代感。就好像艺术家的装置,十分抢眼。唯一的困难就是室内外之间的过渡。  
I had strong doubts, because in the Tibetan tradition, humble buildings are not painted in strong colors, which they only use for religious buildings. Ordinary houses are only painted white on stone.
我曾有一种强烈的怀疑,因为在西藏的传统里,普通的建筑是不会涂上太强的颜色的,只有在宗教建筑中才会出现色彩。一般的住宅最多是在石头上涂上白漆。  
It is so strong that when the local people go there, some start to circle the building. They obviously think it is a religious building, and it is not. I'm not kidding, it is serious: the impact of the color is really strong.
这个颜色太抢眼了、以至于当地的村民会开始聚集在建筑周围。他们很明显是把它当成宗教建筑了,但它又不是。我没有开玩笑,这是真的:颜色所带来的影响是巨大的。  
They are the same building. Maybe next year we paint it again, inside.
同样的建筑,可能明年我们把它再涂一次,把室内再涂一次。
Because the space is very geometric, when you enter it, it is completely abstract. I don't think it makes a lot of sense to just look at this carved, void and solid space. This is a tourist center, so you need something else, like an experience.
因为空间很有几何感,当你进入的时候,它完全是抽象的,但我不认为只是看这个雕刻的空洞的结实的空间有多大意义,它是一个游客中心,应该更多一种体验。
 I went there, looked at the building, and to experiment I bought a local pigment. It is mineral and we mixed it with architectural glue, and applied that on plywood board, We put these plywood boards against the wall to see how to make the transition from space to space. Both the client and me where on site, thought it looked nice, and just did it.
我去到那儿,看了建筑,为了实验还带去一种当地的颜料。它是一种矿物质,我混之以建材胶,然后涂在胶合板上;我拿着这个胶合板和墙体做对比,看如何让颜色从一个空间过渡到另一个空间。我和甲方当时都在,觉得这样看起来不错,就这样做了。  
I would say it is artificial, making this artificial experience stronger by adding color. We could not do this in any other place because we do not have this kind of vibrant sunshine. Especially when it hits on color, it's quite magical.
建筑结构是人造的,而通过颜色的加入这种人造的体验被增强了。我们在别的地方可能不会这样做,因为只有这里阳光足够强烈。尤其是当光打到这些颜色上,简直很神奇。
I was pretty sad for this building to be painted white, but looking back, I was already at another stage of my life, and grateful to whatever has happened.
我很伤心建筑要被涂成白色,但是回过头看,我已经走过那个阶段,所以对当时发生的一切现在都感到很欣慰。